Longterm Anarchist Prisoners
These are, of course, not all of the longterm anarchist prisoners, only all of those we have been in touch with, either directly or via their support crews. If you support a longterm anarchist prisoner who would like to have their situation or words featured on this page, please email us at june11th at riseup dot net.
(Click here for translations of our call for prisoner contributions)
Anna Beniamino
Anna Beniamino is an anarchist sentenced to 17 years by the Italian state for allegedly taking part in five separate bombing attacks, and for promoting the FAI. Her sentence is part of the Scripta Manent case. The Fossano bombing in 2006 attacked a school for training Italy's Carabinieri military-police officers. The Crocetta bombing in 2007 was aimed at the police, and took place in the Crocetta District in Turin. Three mail bombings in 2006 were sent to the then-mayor of Turin, the editor of the newspaper Torino Cronaca, and to a company involved in a prison built for detaining and deporting migrants.
For more information:
https://325.nostate.net/tag/anna-beniamino/
Jay Chase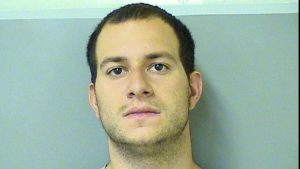 The NATO 3 were arrested on May 16, 2012 in the lead up to the anti-NATO protests in Chicago, Illinois. They were originally charged with 11 felony counts under the Illinois state version of the USA Patriot Act including material aid for terrorism, conspiracy to commit terrorism & possession of an incendiary device. What surfaced after their arrest were that two undercover cops, "Mo" and "Gloves" had been trying to entrap these three activists and others as part of Chicago's surveillance & targeting of the local activist community. The NATO 3 went to trial on January 21, 2014, were acquitted of all terrorism counts on February 7. They were found guilty of possession of an incendiary device with the intent to commit arson, possession of an incendiary device with the knowledge that another intended to commit arson and mob action. On April 25, 2014, Brian Church was sentenced to five years, Brent Betterly to six years, and Jared Chase to eight years. In November 2014, Brian Church was released on parole. In April 2015, Brent Betterly was released on parole. In April 2016, Jared was sentenced to an additional year in prison for squirting a shampoo bottle of his human waste at a correctional officer. Jared said in a letter that he acted out when he did not receive the special diet or vitamins prescribed for Huntington's disease, which is hereditary and marked early on by personality changes, irritability, impulsiveness and impaired judgment.
For more information:
http://freethenato3.wordpress.com
Address:
Jared Chase #M44710
Dixon Correctional Center
Dixon, IL 61021
Sam Faulder
Sam Faulder is an anarchist prisoner currently serving a life sentence in England. Sam is a miscarriage of justice who has done over ten years in the prison system for a murder she did not commit. She is now working with Cardiff University's Innocence Project on her appeal.
Sam was diagnosed with cancer in 2016. She could have had simple laser therapy as an early intervention, however, the private prison company Sodexo running the prison cancelled more than 9 appointments for surgery. As a result, Sam's cancer has now spread and they are no longer able to operate further. She will begin radiochemotherapy this summer. You can read the full cancer timeline on her website.
Donate: https://gogetfunding.com/freedom-for-sam/
For more information:
http://freedomforsam.org/
Address:
Samantha Faulder A1209CF
HMP Foston Hall
Foston
Derby
Derbyshire
DE65 5DN
England
The Cleveland Four

The Cleveland 4 were four Occupy Cleveland activists, Brandon, Connor, Doug and "Skelly." The four were arrested on April 30th, 2012 and accused of plotting a series of bombings, including that of an area bridge. The reality is that the FBI, working with an informant, created the scheme, produced the explosives, and coerced these four into participating. Connor, Doug, and Brandon took non cooperating plea deals and pleaded guilty to all charges. The judge applied a "terrorist enhancement" charge to each of them. Doug is serving 11.5 years, Brandon 9 years 9 months, and Connor 8 years 1 month. Skelly took his case to trial acting as his own lawyer. He was found guilty on all counts by his jury and sentenced to 10 years. The four have appealed their cases and lost. Connor completed his sentence in 2019.
For more information:
http://cleveland4solidarity.org
Addresses:
Joshua Stafford #57976-060
USP McCreary
P.O. BOX 3000
Pine Knot, KY 42635
[Address envelope to Joshua Stafford, letter to Skelly]
Doug Wright #57973-060
USP Victorville
P.O. BOX 3900
Adelanto, CA 92301
[Note: We are no longer listing Brandon Baxter because he has repeatedly been manipulative and abusive toward women who have offered him support, and has refused to take responsibility for his behavior. See also anarchist prisoner Eric King's statement.]
Noah "Kado" Coffin
Noah "Kado" Coffin is an anarchist prison rebel serving a 15-year sentence at the Eastham Unit in Texas, much of which he's spent in solitary confinement.
"The struggle rages on, the walls are torn down every day by the ones who choose to storm them. I am Comrade K@do and you will never be forgotten. Together we stand against the tyranny of oppression, repression, the bonds of conformity, and stand for the ones who cannot. My endeavor is toward building upon the strength of our existing connections and through my own efforts (made possible only by the selfless and beautiful supporters) I shall become what we, behind the walls are in much need of – a voice, such a voice and effort, that will paint itself upon the hearts and thoughts of the ones who hear that time or barriers would crumble away to nothing as we rise together in this fight. I'm a poet, artist, activist for human rights, who loves the earth and life and together we can overcome. Together we will succeed in all our efforts. Look and you will find me on the front. Your names upon my lips and your sacrifices, the motivation and drive within…
In Love and Rage,
Kado"
For more information:
http://sfbayview.com/tag/noah-comrade-kado-coffin/
Address:
Noah Coffin #1795167
2665 Prison Road #1
Lovelady, TX 75851
Xinachtli
Xinachtli (Nahuatl, meaning "seed") is a community organizer from Texas. Police informants were used to monitor Xinachtli's organizing activities in the barrio. They were told Xinachtli was "typing legal papers," "had many books" and was working on police brutality cases in Alpine.
The police knew of Xinachtli's history of community-based organizing and his legal skills. Xinachtli was recognized nationally and internationally as the national coordinator of the Ricardo Aldape Guerra Defense Committee, which led the struggle to free Mexican national Aldape Guerra from Texas' death row after being framed by Houston police for allegedly killing a cop. Xinachtli's human rights work was recognized in Italy, France, Spain, Switzerland, Mexico and other countries. He was sentenced in Odessa, Texas on June 2-9, 1997 to 50 years in prison for defending himself by disarming a police officer drawing a weapon on him. The trial evidence clearly showed Xinachtli was the victim of witch hunts and a police-orchestrated conspiracy to frame or eliminate him.
For more information:
https://freealvaronow.blogspot.co.uk/
Address:
Xinachtli*#255735
James V Allred Unit
2101 FM 369 North
Iowa Park, Texas 76367
*address envelope to Alvaro Hernandez
Marios Seisidis
Marios has been sentenced to prison for 36 years for allegedly robbing a bank in January, 2006 in Athens, Greece, and for three "attempted murder" charges related to the bank guard and two police officers. He was also charged with six additional robberies, but has been acquitted of them.
For more information:
Act For Freedom Now
Address:
Dikastiki Fylaki Korydallou
A .Pteryga,
TK 18110,
Korydallos,
Athens
Juan Flores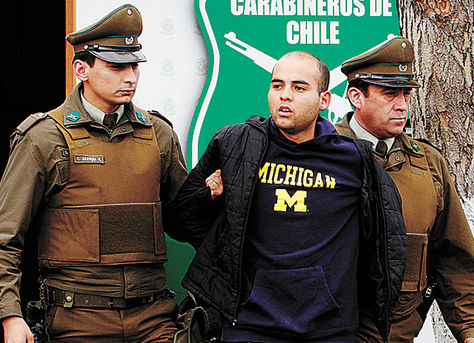 Juan Flores is serving a sentence of 23 years, having been convicted by the Chilean state for incendiary attacks in 2014 claimed by the Conspiracy Cells of Fire & International Conspiracy of Revenge. On July 23, 2014 a CCF cell bombed "The Dominicans" station of the Santiago Metro, and on September 8, 2014 a shopping mall in Las Condes. In both instances, measures were taken to ensure the bombs would not hurt anyone, but in the former a bag containing the bomb was moved by a Metro employee, and in the latter the police ignored a warning call the CCF cell made 10 minutes before the bomb was set to go off. As a result, the attacks ended up injuring people, so the Chilean state was able to claim they were meant to terrorize the population, and used an anti-terrorism law to obtain maximum sentencing on March 15, 2018 after proclaiming Juan guilty of both attacks. Two other comrades, Nataly Casanova and Enrique Guzman, were initially charged alongside Juan, but after over three years of imprisonment and criminal proceedings were found not guilty on all counts.
For more information:
Publicacion Refractario
Address:
Juan Flores Riquelme
Unidad Especial de Alta Seguridad/Cárcel de Alta seguritad
1902 Avda. Pedro Montt
Santiago,Chile
Miguel Angel Peralta Betanzos

From Solidarity.International
Miguel's community has an important history of anarchist struggle and he joined it. The struggle is for usos y costumbres [indigenous social and organizational practices] and to prevent the removal of natural resources from the community, etc. There have been intense attacks against those seeking autonomy, and among them is Miguel Ángel Peralta Betanzos. Miguel was arrested on April 30, 2015 in Mexico City, where his family has a small business. His was at the shop when the police arrived and removed him by force from his business without any arrest warrant or paperwork. They kept him for many hours; no one knew where he was. The car that took him had no licence plates, so there was no way to identify it. No one was notified until later. He was transferred to Oaxaca and they accused him of first-degree murder, for a murder that happened in Eloxochitlán while hewasn't even there. After a long, tedious, and exhausting trial, Miguel was sentenced on October 26th, 2018, to fifty years in prison for two crimes that he did not commit. This sentence was dictated in spite of his legal defense teampresenting the necessary evidence to prove that he is not responsible for these crimes and that his case is full of legal irregularities.
To write Miguel:
Send a message to solidaridadelox@gmail.com.