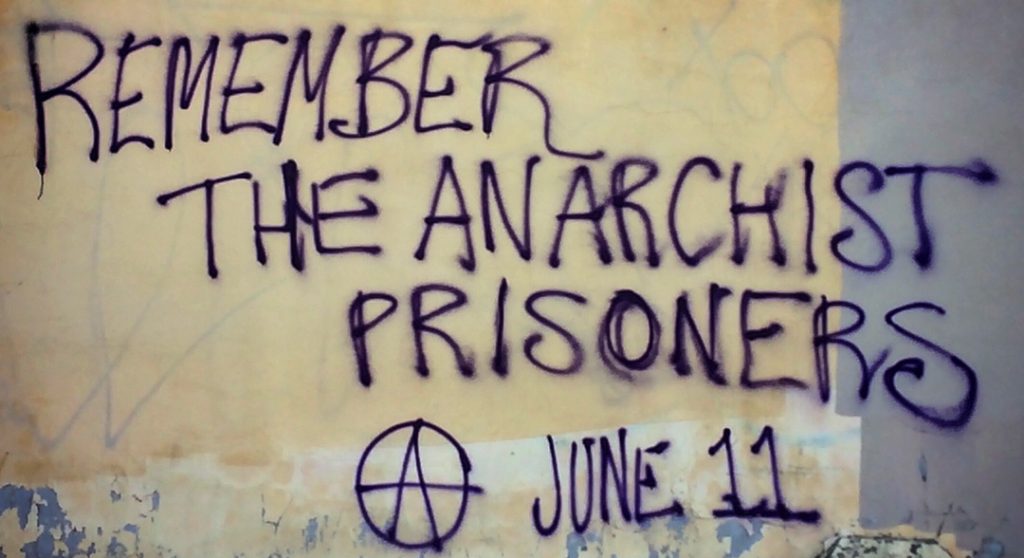 June 11th: the international day of solidarity with Marius Mason and long-term anarchist prisoners. In the 15 years this tradition has been observed, June 11th has facilitated support and action inspired by imprisoned anarchists — from noise demonstrations outside of jails to letter-writing nights, from fundraisers to arson. Setting aside this day is one way of remembering anarchists who are serving long prison sentences, generating support for them, and inspiring solidarity actions.
Because social struggles phase in and out, this day is a way to make sure that our imprisoned comrades are not forgotten. Our lack of memory is partially a result of the techno-alienation of the larger culture we're fighting against. But it's also a product of the dynamics of the anarchist space. People become burnt out and the cycle of forgetting continues.
June 11th is a way of combating that amnesia, of trying to sustain a long-term memory in the anarchist space. Not only does this generate support for anarchists locked in the state's prisons, it forces us to look back at what came before. Considering what previous generations did can both inspire us with ideas we've forgotten, and help us understand how our current practices came to be.
While those of us on the June 11th organizing crew focus on prisoners with long sentences, and sometimes point out how disproportionately long these sentences are based on the justice system's own sentencing norms, it is not because we are criticizing the government for being unfair. Rather than lobbying for fair sentencing, we seek the total destruction of all prisons: both as physical cages that kidnap people, and as a logic of social control that includes surveillance technologies, parole, and ankle monitors. While we support those who can finagle the state's own laws to get comrades released as early as possible, we're committed to those who are still waiting and those for whom this is not possible. We want to push the boundaries of what that commitment means. Our emphasis on long-term sentences is to make sure our comrades continue to receive support as time moves forward.
The person who has been the focus of June 11th the longest is Marius Mason. Marius is an anarchist, environmental and animal liberation activist who is currently serving a 22 year prison sentence. He plead guilty to taking part in an arson of a Michigan State University lab conducting GMO research for Monsanto in 1999, as well as twelve other acts of property destruction. Marius was imprisoned in 2009 during the Green Scare, a time when the U.S. federal government was cracking down on earth and animal liberation struggles. He was incarcerated in a high security unit until 2017 when, after constant advocacy by outside supporters, he was moved to general population. Finally, earlier this year Marius was moved from Carswell to Danbury, where he is much closer to many of his friends and family. In 2014, he came out publicly as transgender, using he/him pronouns, and eventually secured access to hormone treatment in 2016. For more information, check out the website his support team maintains.
Prisoner Updates
Sean Swain went on hunger strike during the month of September after prison administrators removed some of his privileges in response to his writings. Michael Kimble was one of eight Holman prisoners in June 2018 beaten by the riot squad and thrown in lockup with seemingly no pretext. Eventually he was released back into general population. Jeremy Hammond was attacked by a guard after accidentally bumping into them, put in the solitary confinement for months, and then transferred to FCI Memphis with a higher security status. He has been removed from college courses and a counseling program that would have reduced his sentence by a year.
Eric King has been placed in solitary confinement after defending himself from a guard's attack in August 2018. He was transferred to USP McCreary, where his communication has been severely restricted. Joaquín Garcia has been sentenced to 13 years in prison for the bombing of a prisoner guard training facility in Chile. Connor Stevens of the Cleveland 4 will be released from prison in April 2019. Freddy Fuentevilla, who was imprisoned with two comrades 10 years ago for bank robbery and the murder of a cop, was released into parole in July 2018. Lisa, convicted of robbing banks in Aachen, was placed in solitary and then released back into general population earlier this year.
All charges in the J20 case in the USA have been dropped for the remaining defendants. This would not have been possible without all the support and coordination work done behind the scenes by defendants and their supporters.
Repression of anarchists continues especially in Russia and Italy. Russian anarchists are being tortured and arrested for membership in a fake organization called "The Network." In Italy, the state is conducting multiple operations to clamp down on anarchists, including the ongoing Operations Scintilla, Renata, Panico, and Scripta Manent.
Most of this information would never have gotten out if it wasn't for folks doing support work for anarchist prisoners. Thanks to all the support crews out there, the Anarchist Black Cross, Greek Imprisoned Fighters Fund, and everyone taking initiative to support imprisoned anarchists.
June 11th, 2019
We are calling on anarchists around the world to take initiative in whatever way speaks to one's own heart. In the past, we have seen solidarity attacks, noise demonstrations, graffiti, letter writing nights, dance parties, fundraisers, and much more.
In the coming months, we will be posting additional content to build up towards June 11, 2019. As always, we welcome posters, art, fliers, prisoner statements, report-backs, communiques, and anything else. Check out june11.org for more information.
---
LLAMADO PARA EL 11 DE JUNIO – 2019.
11 de junio: día internacional de solidaridad con Marius Mason y con lxs presxs anarquistas de larga condena. En los 15 años que se ha observado esta tradición, el 11 de junio ha facilitado el apoyo y la acción inspiradxs por anarquistas encarceladxs, desde manifestaciones de ruido fuera de las cárceles hasta noches de envío de cartas, desde recaudadores de fondos hasta incendios provocados. Dejando a un lado hasta el día de hoy, es una forma de recordar a lxs anarquistas que están cumpliendo largas sentencias de prisión, generación de apoyo para ellxs, e inspirar acciones solidarias.
Debido a que las luchas sociales entran y salen gradualmente, este día es una manera de asegurarnos de que nuestrxs compañerxs encarceladxs no sean olvidadxs. Nuestra falta de memoria es, en parte, resultado de la alienación tecnológica de la cultura más amplia contra la que luchamos. Pero también es producto de la dinámica del espacio anarquista. La gente se agota y el ciclo de olvido continúa.
El 11 de junio es una forma de combatir esa amnesia, de tratar de mantener una memoria a largo plazo en el espacio anarquista. Esto no solo genera apoyo para lxs anarquistas encerradxs en las prisiones del estado, sino que nos obliga a mirar hacia atrás, a lo que vino antes. Teniendo en cuenta lo que hicieron las generaciones anteriores puede inspirarnos con ideas que hemos olvidado y ayudarnos a comprender cómo surgieron nuestras prácticas actuales.
Si bien lxs que formamos parte del grupo de la organización del 11 de junio nos centramos en lxs presxs con largas condenas, y a veces señalamos que estas sentencias se basan en las propias normas de sentencia del sistema de justicia, no porque estemos criticando al gobierno por ser injusto. En lugar de solicitar por una sentencia justa, buscamos la destrucción total de todas las cárceles: tanto como jaulas físicas que secuestran personas, como una lógica de control social que incluye tecnologías de vigilancia, libertad condicional y monitores de tobillo. Si bien apoyamos a aquellxs que pueden negociar las leyes del Estado para que lxs compañerxs sean liberadxs lo antes posible, estamos comprometidxs con aquellxs que todavía están esperando y aquellxs para quienes esto no es posible. Queremos empujar los límites de lo que significa ese compromiso. Nuestro énfasis en las sentencias a largo plazo es asegurarnos de que nuestrxs compañerxs continúen recibiendo apoyo a medida que avanza el tiempo.
La persona en que más se ha centrado el 11 de junio es Marius Mason. Marius es un activista anarquista, ambientalista y por la liberación animal que actualmente cumple una condena de 22 años de prisión. Se declaró culpable de participar en un incendio de un laboratorio de la Universidad Estatal de Michigan que realizaba una investigación de OGM para Monsanto en 1999, así como de otros doce actos de destrucción de propiedades. Marius fue encarcelado en 2009 durante Green Scare, una época en que el gobierno federal de los Estados Unidos estaba tomando medidas enérgicas contra las luchas por la liberación de la tierra y de los animales. Fue encarcelado en una unidad de alta seguridad hasta 2017, cuando, después de la constante defensa de partidarios externos, fue trasladado a la población general. Finalmente, a principios de este año, Marius fue trasladado de Carswell a Danbury, donde está mucho más cerca de muchxs de sus amigxs y familiares. En 2014, se declaró públicamente como transgénero, usando pronombres masculinos, y finalmente consiguió acceso al tratamiento hormonal en 2016. Para obtener más información, visite el sitio web que mantiene su equipo de apoyo.
ACTUALIZACIONES DE PRESXS
Sean Swain inició una huelga de hambre durante el mes de septiembre después de que lxs administradores de la prisión le quitaron algunos de sus privilegios en respuesta a sus escritos. Michael Kimble fue uno de los ocho prisioneros Holman en junio del 2018 golpeado por el escuadrón antidisturbios y encerrado en la celda sin ningún pretexto. Finalmente fue liberado de nuevo a la población general. Jeremy Hammond fue atacado por un guardia después de chocar accidentalmente con ellxs, fue puesto en régimen de aislamiento durante meses y luego fue transferido a la FCI Memphis con un nivel de seguridad más alto. Se le retiró de los cursos universitarios y de un programa de asesoramiento que le habría reducido la sentencia en un año.
Eric King fue puesto en régimen de aislamiento después de defenderse de un ataque de un guardia en agosto de 2018. Fue transferido a USP McCreary, donde su comunicación ha sido severamente restringida. Joaquín García ha sido condenado a 13 años de prisión por el ataque con un artefacto explosivo a una instalación de entrenamiento de Gendarmería (guardias de prisiones) en Chile. Connor Stevens, del Cleveland 4, saldrá de prisión en abril de 2019. Freddy Fuentevilla, quien estuvo encarcelado con dos compañeros por 10 años por robo a un banco y el asesinato de un policía, fue puesto en libertad condicional en julio de 2018. Lisa, condenada por robo a bancos en Aachen, fue colocada en solitario y luego liberada de nuevo a la población general a principios de este año.
Todos los cargos en el caso J20 en los EE. UU. se han retirado para lxs acusadxs restantes. Esto no hubiera sido posible sin todo el trabajo de apoyo y coordinación realizado entre bambalinas por lxs acusadxs y sus compañerxs.
La represión a lxs anarquistas continúa especialmente en Rusia e Italia. Lxs anarquistas rusxs están siendo torturadxs y arrestadxs por pertenecer a una organización falsa llamada "LA RED". En Italia, el Estado está realizando múltiples operaciones para reprimir a lxs anarquistas, incluidas las operaciones en curso Scintilla, Renata, Panico y Scripta Manent.
La mayor parte de esta información nunca se habría divulgado si no fuera por personas que realizan tareas de apoyo con lxs prisionerxs anarquistas. Gracias a todos los equipos de apoyo, la Cruz Negra Anarquista, al Fondo de Luchadores Encarceladxs de Grecia y a todxs lxs que tomaron la iniciativa de apoyar a lxs anarquistas encarceladxs.
11 DE JUNIO, 2019.
Hacemos un llamado a lxs anarquistas de todo el mundo para que tomen la iniciativa de cualquier manera como le indique su propio corazón. En el pasado, hemos visto ataques en solidaridad, manifestaciones de ruido, grafiti, noches de escritura de cartas, fiestas de baile, eventos para recaudar fondos y mucho más.
En los próximos meses, publicaremos contenido adicional para el 11 de junio de 2019. Como siempre, recibimos carteles, arte, folletos, declaraciones de presos, informes, comunicados y cualquier otra cosa. Echa un vistazo a june11.org para más información.
---
FUENTE: JUNE 11TH
TRADUCCIÓN: ANARQUÍA