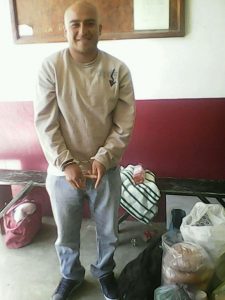 [DOWNLOAD AUDIO HERE]
Solidarity statement from Miguel Peralta (Political Prisoner from Eloxochitlán de Flores Magón, Oaxaca, Mexico)
Miguel:
Greetings to all of the comrades who receive these sincere words.
It's not easy to say these two vast words: LONG-TERM SENTENCE. When we already know that their justice and carceral systems are worth nothing. The judicial apparatus and the criminals hide their faces behind the scales of justice, they distort and file documents in order to imprison the comrades who struggle against the establishment. They are hungry for flesh.
Similarly, it is difficult to adapt to isolation. We cannot allow ourselves to watch the days, months, and years pass on the calendar, while we endure the humiliation. We must fight the fear that prison generates and the sicknesses that we acquire here on a daily basis. We cannot stop searching for alternatives and improvising resistance as if we don't have "the boot to our neck". This is also a difficult task.
Long and enduring resistance could be the answer to these impositions, long and enduring struggle. Although it robs us of our energy, I think that our spirit will resist and keep beating like our enraged hearts, longing to walk, FREE!! One day we will manage to snatch back the days and nights that they have robbed from us, comrades.
Freedom to the Prisoners!
Down with the Prison Walls!
San Juan Bautista Cuicatlán, Oaxaca Continue reading "June 11, 2018 statement from Miguel Peralta"