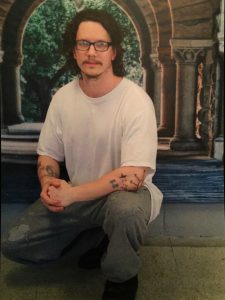 A raised fist to you all this June 11th! May this letter find you in revolutionary health and spirits. Although I am unable to be with you physically on this occasion due to being held in captivity by the BOP, I still feel connected with you on this day of solidarity. It was nice to run the 5K with you a few days ago for Running Down The Walls. I also sent out a few dozen origami models decorated with June 11th anarchist tattoos; you should be receiving those shortly.
Big ups to the other anarchist comrades behind bars. We have been through a lot of trials and tribulations over the years: harassment from abusive guards, solitary confinement, diesel therapy, the mind-numbing frustrations from battling the brutal bureaucracy for so many years. Never have we been alone, however. Despite every effort the system has made to cut us off from our friends and loved ones, from disconnecting us from the rotations of the Earth, we have still been able to stay connected to the movement. The letters, the books, the messages of encouragement – by undermining the punitive, isolating deterrent effect of the prison system, we are strengthened to keep struggling through the storm.
For all this, I want to express my appreciation for the Anarchist Black Cross chapters, the Books to Prisoners groups, the Friends of AK Press book club, those who sent in their personal zines: your work has an immeasurable positive effect on our lives behind bars. Know that every prison library we've passed through is saturated with radical literature, ready for the next curious soul looking for something interesting to check out. Also inspiring are the various solidarity actions, hearing that people are still out there taking direct action to destroy the old world and manifest new ones. Where we are, we often aren't in the best position to be hacking and smashing things ourselves, but we can still rest easy knowing that things are still being hacked and smashed.
This June 11th also falls on the yearly "Officer Appreciation Week" (a separate event from the National Police Week last month). Across the federal prison system, we are locked down in our cells during the day while the pigs feast on fancy food from the free world, throw basketball tournaments, and give each other cheap awards manufactured by prisoners. They clap each other on the back when all the while their brethren continue to get away with murdering innocent people in the streets. It's hard to imagine what sickeningly nationalistic sociopath could support such a week – but then again, this is the United States, headed by a fascist pig that pardons racist police and war criminals!
Watching the sky fucking fall from afar, it is sometimes frustrating not being able to do much about it. I'm often asked was all worth it, and how I have kept from being burnt out. Though I have regrets about not carrying out my actions with complete precision, I have never once regretted my involvement in the anarchist movement or committing the specific Anonymous activities that have led to my incarceration. My only regret is that I didn't carry out my actions with complete precision, and that I was caught too early before I could complete many other half-finished plans!
Reflecting on this year's theme of combating amnesia, drawing inspiration, and looking to previous generations, I thought about some things I recently read in Nelson Mandela's autobiography Long Walk to Freedom. On multiple occasions, the authorities offered him release from prison if he would only renounce his actions and condemn the use of violence. Each and every time, he refused to turn his back against his comrades! There is no greater integrity than those who have been tested and stayed true, keeping their heads up high for so, so long. Having developed an appreciation for the immense gravity and preciousness of time, I want to express my deepest respects for you all serving long-term sentences, and commit myself to work towards your immediate and unconditional release.
Until the last prisoner is freed and the last prison burned to the ground!
Jeremy (A)
from Free Jeremy