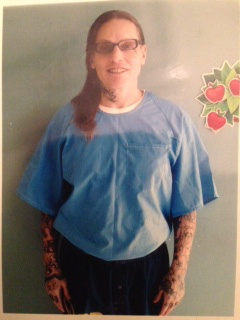 I have a lot on my plate. Like Marius, I'm also a student paralegal – recently enrolled in Blackstone Paralegal Studies Program. I've also applied for summer courses at Coastline College.
On top of that I'm always pursuing various writing projects, and have recently been granted a writer's mentorship after being accepted into the Writer's Cohort of Empowerment Avenue & Prison Renaissance Project, started by Rahsaan Thomas at San Quentin. All this, in addition to my prison job assignments on the Recycle Crew, ISUDT Intensive, and Inmate Advisory Council (I.A.C.) Transgender Rep.
I'm always busy answering a stack of mail, reading books/zines, and pursuing my legal campaign for Executive Clemency/commutation of sentence, and to challenge the unfair parole denial and housing discrimination. I recently hired the National Clemency Project to help prepare my commutation application packet. I need support letters!
My other attorney filed a new housing discrimination complaint with the Department of Fair Employment and Housing (DFEH). Additionally, I filed torture claims, in corroboration of Sean Swain's claims, at the InterAmerican Commission on Human Rights (IACHR), and released a solidarity statement regarding Prison Lives Matter. I've also been collaborating with Critical Resistance in Oakland.
There are some interesting developments such as #PrisonLivesMatter and the National Freedom Movement's #ApathwayToFreedom – One Million Families for Parole rally! Perhaps we can rebuild a Revolutionary Prisoner Movement as memorial to Kuwasi Balagoon (RIP) (A).
Another thing I'm working on is IWW/IWOC organizing/unionizing here on my yard, along with my comrade. He's also an anarchist and we are both IWW/IWOC members, so we are planning some stuff to put into action here on the ground at Salinas Valley. We both live in the same unit; he is trying to get a theater group approved by the warden.
I think Biden and Harris neoliberal BS is a joke! They are both pigs and Amerikan imperialists who will do nothing significant to address authoritarian policing and mass incarceration. In fact, they ultimately roll over and hand power to the fascists on a silver platter. Like PLM says "We Are Our Own Liberators!"
Keep your head up! Raise your fist!
Anarchist love & solidarity,
Jennifer
Jennifer Rose #E23852
Salinas Valley State Prison
PO Box 1050
Soledad, CA 93960
Jennifer can also be reached at her new email address: JenniRose [[at]] conpals [[dot]] com.
More of Jennifer's writing can be found at her blog.
---
EE.UU.: 11 DE JUNIO DE 2021 ACTUALIZACIÓN DE JENNIFER ROSE
Tengo mucho que hacer. Al igual que Marius, también soy estudiante de asistente legal, y me he matriculado recientemente en el programa de estudios paralegales de Blackstone. También he solicitado cursos de verano en el Coastline College.
Además de eso, siempre estoy persiguiendo varios proyectos de escritura, y recientemente me han concedido una tutoría de escritora después de ser aceptada en la Cohorte de Escritores de Empowerment Avenue & Prison Renaissance Project, iniciado por Rahsaan Thomas en San Quentin. Todo esto, además de mis asignaciones de trabajo en la prisión en el Equipo de Reciclaje, el Intensivo ISUDT, y el Consejo Asesor de Reclusos (I.A.C.) Representante de Transgénero.
Siempre estoy ocupada respondiendo a una pila de correo, leyendo libros/revistas, y llevando a cabo mi campaña legal para la Clemencia Ejecutiva/conmutación de la sentencia, y para desafiar la injusta negación de la libertad condicional y la discriminación en la vivienda. Recientemente he contratado al Proyecto Nacional de Clemencia para que me ayude a preparar mi paquete de solicitud de conmutación. Necesito cartas de apoyo.
Mi otro abogado presentó una nueva denuncia por discriminación en la vivienda ante el Departamento de Empleo y Vivienda Justos (DFEH). Además, presenté reclamaciones por tortura, en corroboración de las reclamaciones de Sean Swain, ante la Comisión Interamericana de Derechos Humanos (CIDH), y publiqué una declaración de solidaridad sobre Prison Lives Matter. También he estado colaborando con Critical Resistance en Oakland.
Hay algunos desarrollos interesantes como #PrisonLivesMatter y la manifestación del Movimiento Nacional por la Libertad #ApathwayToFreedom – ¡Un millón de familias por la libertad condicional! Tal vez podamos reconstruir un Movimiento de Presxs Revolucionarixs en memoria de Kuwasi Balagoon (RIP) (A).
Otra cosa en la que estoy trabajando es en la organización/sindicalización de IWW/IWOC aquí en mi patio, junto con mi compañero. Él también es anarquista y ambos somos miembros de IWW/IWOC, así que estamos planeando algunas cosas para poner en acción aquí en el terreno en Salinas Valley. Los dos vivimos en la misma unidad; él está intentando que el director apruebe un grupo de teatro.
Creo que Biden y Harris son un chiste neoliberal. Ambos son unxs bastardxs y unxs imperialistas americanxs que no harán nada significativo para abordar el control policial autoritario y el encarcelamiento masivo. De hecho, en última instancia, se dan la vuelta y entregan el poder a los fascistas en bandeja de plata. Como dice PLM «¡Somos nuestrxs propixs libertadores!»
¡Mantengan la cabeza en alto! ¡Levanta el puño!
Amor y solidaridad anarquista,
Jennifer