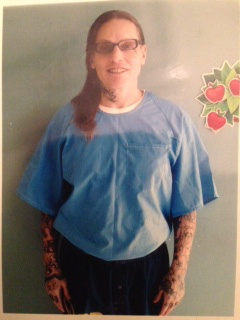 Insurgent greetings from behind enemy lines in so-called California (Amerikan occupied Chumash territory)!
First and foremost, a clenched fist salute to my imprisoned anarchist comrades in the U.S. and around the world!
It's been 28 years since I was first incarcerated in 1990 for armed robbery. So, to give everyone a quick update on my personal history… I first entered the California prison system when it was racially segregated, and quickly became politicized after coming into contact with anarchists and abolitionists during the 1991 Folsom Prison Food Strike, for which I was sent to solitary confinement on "inciting" charges. As a young prison rebel in the early 1990s, I experienced the brutality and torture of solitary confinement first-hand, from beatings to gladiator fights to food deprivation and murders covered up by the corrupt pigs. I was defiant and resisted these inhumane conditions by single-handedly sabotaging and breaking 13 prison cell windows in the Administrative Segregation Unit (ASU) at Folsom. In retaliation for the beatings and torture I suffered, I attacked a pig and received 16 years added to my sentence! Subsequently, I was charged with possession of a weapon by a prisoner, battery on a state prosecutor during an attempted escape from the Sacramento courthouse, and assault with a deadly weapon on a prison warden, for which I was given multiple 25-year-to-life sentences. All of these events occurred more than 20 years ago, and I spent more than a decade in Pelican Bay SHU.
Now, in 2018, I have a new appeal under California's Three Strikes Reform Act of 2012 which was "granted review" and is pending in the California Supreme Court. My attorney, Cheryl Anderson, says she expects me to be given a new hearing to determine if I will receive a sentence reduction and early parole date! The recent parole granted to long-time political prisoner Herman Bell gives me hope!
I've also recently filed an Application for Commutation of Sentence to California Governor Jerry Brown. The recent commutations of Chelsea Manning's sentence and Oscar Lopez Rivera also give me hope for that!
I'm currently being reevaluated for sex-reassignment surgery (SRS) under California guidelines implemented as a result of lawsuits by trans prisoners Michelle Norsworthy and Shiloh Quine, seeking transgender healthcare.
I'm very grateful to my support team comrades for setting up a website and organizing an online legal fundraiser on my behalf to pay a legal consulting fee of $3000 to National Legal Professional Associates (NLPA). I appreciate all of the support and solidarity I've received, with special shoutouts and thanks to S—, N—, R—,S—, and I—.
I'm involved directly with Maine Anti Racist Action and Bloomington Anarchist Black Cross in bringing together a new anarchist prisoner initiative to build and strengthen our support networks, communications, and collective struggle. A fund and a paper are in the works to amplify the voices of imprisoned anarchist comrades in the U.S. specifically, and toward the concept of an anarchist prisoner conference in North America. We've reached out to Marius Mason, Michael Kimble, Eric King, Sean Swain, and Jeremy Hammond, among others, and I'm hopeful that we have a general consensus of the need for a new combative position toward anarchist insurgency, as expressed by our Greek comrades' international call for Black December.
With that said, I want to express my heartfelt love and solidarity to our dear compañera Tamara Sol! Keep your head up sister! We want our freedom now and all prisons demolished immediately! ¡A la calle!
Solidarity to Antifascists!
Solidarity to Prison Rebels!
Love and Rage!
Jennifer
---
COMUNICADO DE JENNIFER GANN PARA EL 11 DE JUNIO – 2018
Saludos insurgentes desde detrás de las líneas enemigas en la llamada California (Territorio Chumash ocupado por los Estados Unidos).
En primer lugar, un saludo con el puño en alto a mis compañerxs anarquistas encarceladxs en los Estados Unidos y en todo el mundo.
Han pasado 28 años desde que fui encarcelada por primera vez en 1990 por robo a mano armada. Esto es para darles a todxs una actualización rápida de mi historia personal… Ingresé por primera vez al sistema penitenciario de California cuando fue segregado racialmente, y rápidamente me politicé después de entrar en contacto con anarquistas y abolicionistas durante la huelga alimentaria de la prisión Folsom de 1991, por lo que fui enviada a confinamiento solitario por cargos de "incitación". Como joven rebelde prisionera a comienzos de la década de los '90, experimenté de primera mano la brutalidad y la tortura de la reclusión en régimen de aislamiento, desde golpizas hasta luchas de gladiadores, privación de alimentos y asesinatos encubiertos por lxs cerdxs corruptxs. Yo era desafiante y me resistí a estas condiciones inhumanas al sabotear y romper 13 ventanas de la prisión en la Unidad de Segregación Administrativa (ASU) en Folsom. En represalia por las golpizas y la tortura que sufrí, ¡ataqué a unx bastardx y recibí 16 años adicionales a mi condena! Posteriormente, fui acusada de posesión de un arma por parte de una prisionera, agresión contra un fiscal estatal durante un intento de fuga del tribunal de Sacramento y agresión con un arma letal contra un alcaide de la prisión, por los que me dieron 25 años de sentencia. Todos estos eventos ocurrieron hace más de 20 años, y pasé más de una década en Pelican Bay – SHU (Security Housing Unit – Unidad Especial de Seguridad).
Ahora, en 2018, tengo una nueva apelación bajo la Ley de Reforma de Tres Ataques de California del 2012 que fue "aprobada" y está pendiente en la Corte Suprema de California. Mi abogada, Cheryl Anderson, dice que espera que se me otorgue una nueva audiencia para determinar si recibiré una reducción de sentencia y una fecha de libertad condicional anticipada. ¡La reciente libertad condicional otorgada al preso político de larga condena Herman Bell me da esperanza!
Recientemente, también presenté una Solicitud de conmutación de sentencia ante el gobernador de California, Jerry Brown. ¡Las recientes conmutaciones de la sentencia de Chelsea Manning y Oscar López Rivera también me dan esperanza para eso!
Actualmente estoy siendo reevaluada para una cirugía de reasignación de sexo (SRS) según las pautas de California implementadas como resultado de las demandas de los presos trans Michelle Norsworthy y Shiloh Quine, que buscan atención médica transgénero.
Estoy muy agradecida con mis compañerxs del grupo de apoyo por la creación de un sitio web y la organización de una recaudación de fondos legal en línea en mi nombre para pagar una tarifa de consultoría legal de $ 3000 a National Legal Professional Associates (NLPA). Agradezco todo el apoyo y la solidaridad que he recibido, con mensajes especiales y agradecimientos a S__, N__, R__, S__ e I__.
Estoy involucrada directamente con Maine Anti Racist Action y Bloomington Anarchist Black Cross por una nueva iniciativa de prisionerxs anarquistas para construir y fortalecer nuestras redes de apoyo, comunicaciones y lucha colectiva. Se están preparando un fondo y un documento para amplificar las voces de lxs compañerxs anarquistas encarceladxs en los Estados Unidos específicamente, y hacia el concepto de una conferencia de prisionerxs anarquista en América del Norte. Nos hemos dirigido a Marius Mason, Michael Kimble, Eric King, Sean Swain y Jeremy Hammond, entre otrxs, y tengo la esperanza de que tengamos un consenso general sobre la necesidad de una nueva posición combativa hacia la insurgencia anarquista, tal como se expresó por el llamado internacional de nuestrxs compañerxs griegxs para diciembre negro.
Dicho esto, quiero expresar mi más sincero amor y solidaridad a nuestra querida compañera Tamara Sol. Mantén la cabeza en alto hermana! ¡Queremos nuestra libertad ahora y la destrucción de todas las prisiones inmediatamente! ¡A la calle!
¡Solidaridad con lxs antifascistas!
¡Solidaridad con lxs Rebeldes de la prisión!
Amor y rabia!
Jennifer
FUENTE: JUNE 11
TRADUCCIÓN: INSTINTO SALVAJE