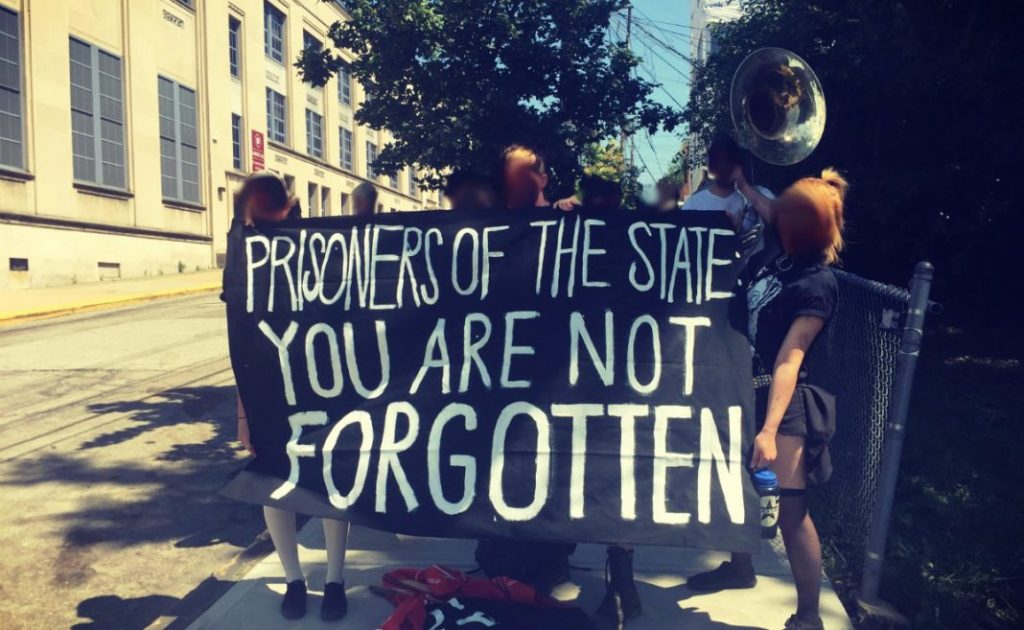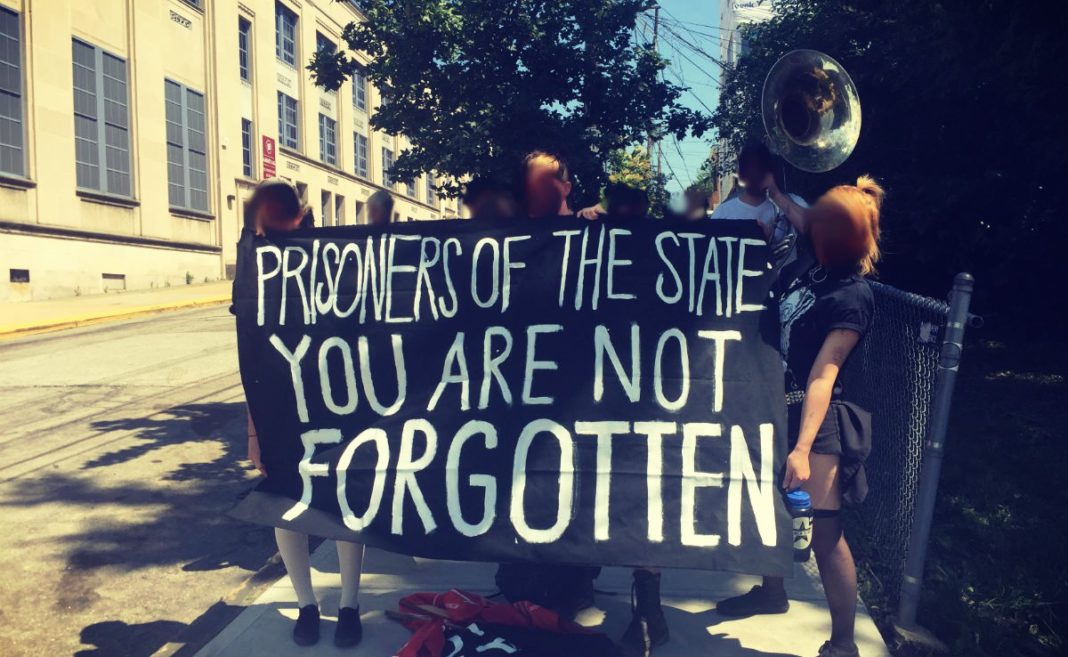 We are one week away from the June 11th International Day of Solidarity with Marius Mason & All Long-Term Anarchist Prisoners!
Events are coming in fast & there's still time for organize events and actions in your town. Everything from writing a letter to an imprisoned anarchist to attacking the dreadful normalcy of everyday life contributes to the sort of living and active solidarity that can aid our comrades behind bars and stoke fires which may someday burn down the prisons.
If you're not sure what to do, check out this list of possibilities drawn from previous years, and our page full of posters, handbills, audio interviews, and more.
And if you're looking for inspiration, a number of imprisoned anarchists have written powerful statements for this year's June 11th.
JUNE 11th EVENTS
Please email information on additional events to june11th [at] riseup [dot] net
Asheville, NC (USA)
June 11 // 6pm
Potluck BBQ in honor of imprisoned comrades
@ Asheville Park
More info here
Austin, TX (USA)
June 11 // 7:30-9:30
The Gentleman Bank Robber movie screening + letter writing
@ Monkeywrench Books (110 E North Loop Blvd)
a benefit for Austin ABC & former-prisoner & anti-authoritarian urban guerrilla bo brown
Facebook event
Bloomington, IN (USA)
June 7 // 10pm-3am
Rock Against Racism dance party
@ The Back Door (207 S College Ave)
a benefit for June 11th organizing
Facebook event
June 12 // 7-9pm
Letter writing for imprisoned anarchists
@ Monroe County Public Library
Chico, CA (USA)
June 11 // gather at 8pm, film at 9pm
Info share, letter writing, and screening the film If a Tree Falls

@ Blackbird Books, gallery, cafe (1431 Park Ave)
Cincinnati, OH (USA)
 June 11 // 6:30pm
Talks on prisoner support + letter writing
@ small grassy area across the street from Mockbee, in Brighton, between Central Pkwy & Central Ave
Then! 10pm onward…
Selling zines, books, clothing, art, etc. + free literature about June 11th
@ Mockbee 2260 Central Pkwy. Cincinnati
Contact: realicide [at] gmail [dot] com
Denver, CO (USA)
June 11 // 5:30 – 8:45 pm
Prison Abolition Potluck
Prison abolitionists will come together to break bread, learn from one
another, and network. Screening of Trouble – No Justice… Just Us, updates, prison abolition discussion and socializing.
For more info, contact denver iwoc at denver [at] incarceratedworkers.org
Durham, NC (USA)
June 17 // 6pm
Letter writing
@ The Pinhook
Grand Rapids, MI (USA)
June 11 // 7pm (tentatively)
Movies, Games, Food, and Letter Writing
@ MLK Park
Minneapolis, MN (USA)
June 10 // 6pm
Vegan potluck, letter writing, board games
Potluck & letters at 6, games at 7:30
@ 2301 Portland Ave S
More info
Montreal, QC (Canada)
June 11 // 22h
Tabling & letter writing + show
with Gazm & Cell, Wax
@Bistro de Paris
Olympia, WA (USA)
June 11 // 8pm
Benefit Show & Letter writing
with Aro, Lomes, Pines
@ 115 Legion Way SW
Olympic Peninsula (USA)
June 11 // 6-8pm
Prisoner Letter Writing & Film Screening
Letter writing & snacks at 6pm, screening of "The Gentleman Bank Robber: The Story of Butch Lesbian Freedom Fighter rita bo brown" at 7. Donations welcome and encouraged, but no one turned away! Snacks and letter writing materials/info provided.
@ Jefferson County Library (in the big meeting room) / traditional Klallam territory / Port Hadlock, WA / Olympic Peninsula
Omaha, NE (USA)
June 12
Day's and Daze Concert
@ the Lookout Lounge (322 South 72nd. Street)
Distro table for June 11th Day of Solidarity with Anarchist Prisoners envelopes, addresses and stamps available. Stop by and write a letter to those behind prison bars.
Pittsburgh, PA (USA)
June 8-11
Fight Toxic Prisons Conference
Portland, OR (USA)
June 11 // 4pm
Letters to Prisoners
@ Social Justice Action Center (400 SE 12th Ave)
Followed by a noise demo @ 7PM
June 14 // 6-9pm
Prisoner letter writing night
@ Social Justice Action Center (400 SE 12th Ave)
Facebook event
Santiago, Chile
16 de Junio
Disidencia, accion directa y liberacion total
Conversatorios, proyecciones, musica en vivo, comida vegana, rifa a beneficio, venta de almuerzo
@ Centro Cultural Pedro Mariqueo (Pob. La Victoria)
Más información
Seattle, WA (USA)
June 10 // 6pm
Potluck, art show, benefit
173 16th ave and Spruce