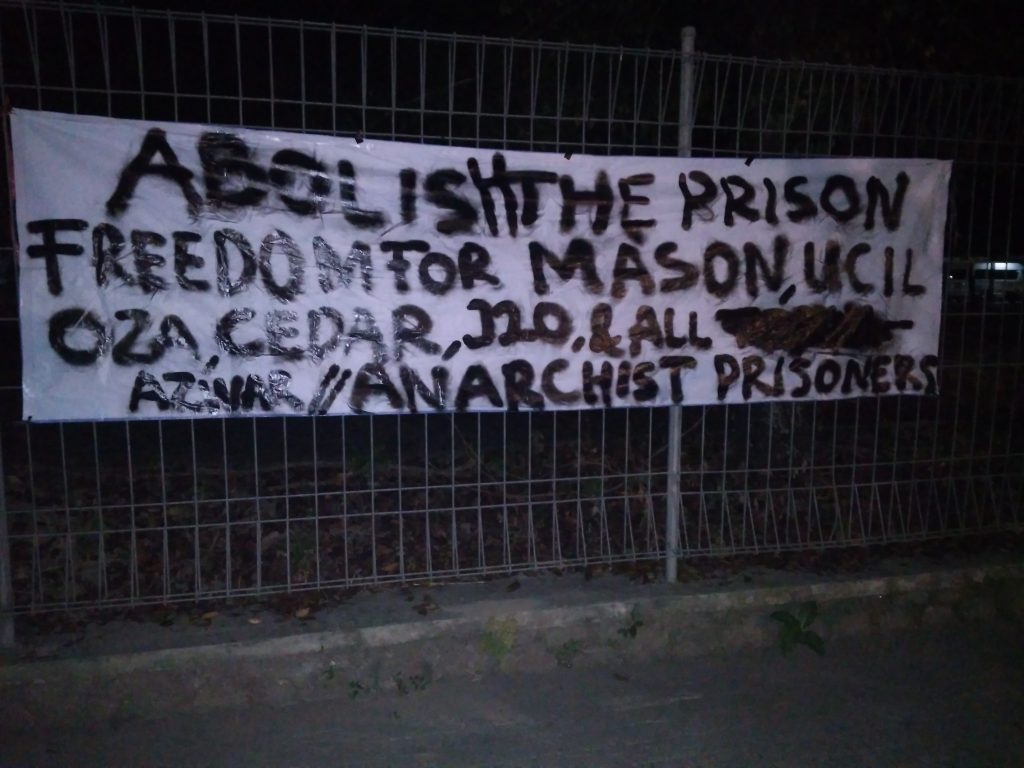 From the network of Anarchist Individualis Yogyakarta, in International Day of Solidarity with Marius Mason, Ucil, Oza, Azwar, Cedar, the J20 protesters and All term anarchist prisoners!.
Banner reads 'Abolish the Prison! Freedom for Mason, Ucil, Oza, Azwar, Cedar, J20 & All Anarchist Prisoners'.
International Solidarity to Marius Mason an Anarchist militant from Earth Liberation Front (ELF) who is serving a 22-year prison term. Imprisoned for burning the University of Michigan Laboratory conducting research on genetically engineered organisms (GMOs) funded by Monsanto.
International Solidarity to class war prisoners in Yogyakarta who is undergoing legal process, after being arrested while protesting against the monarchy-feudal society and the repression of the apparatus in building the New Yogyakarta International Airport (NYIA) infrastructure mega project that rid the peasants of Kulonprogo.
Solidarity to Cedar (Peter) Hopperton who had been arrested and indicted for the property damage that occurred in Locke Street, Hamilton.
International Solidarity to approximately 200 J20 prisoners in the US who are threatened of up to 60 years in prison after protesting against Trump's presidency and the hegemony of the economic-political system of capitalism.
The last, International Solidarity to all long-term Anarchist Prisoners.
YOU WILL NEVER BE FORGOTTEN, and NOT ALONE. WE WILL ALWAYS BE WITH YOU IN ANY SITUATION.
Any funds to anarchists prisoners in Yogyakarta will be gratefully recieved and can be paid into this paypal account: https://www.paypal.me/TobiVBonano
---
¡Desde la red de Individuxs Anarquistas Yogyakarta, en el Día Internacional de Solidaridad con Marius Mason, Ucil, Oza, Azwar, Cedro, lxs manifestantes J20 y todxs lxs presxs anarquistas!
La pancarta dice "¡Abolir la prisión! Libertad para Mason, Ucil, Oza, Azwar, Cedar, J20 y todxs lxs prisionerxs anarquistas.
Solidaridad internacional con Marius Mason, un militante anarquista del Frente de Liberación de la Tierra (ELF) que cumple una condena de 22 años en prisión. Encarcelado por quemar el Laboratorio de la Universidad de Michigan que realiza investigaciones sobre organismos genéticamente modificados (OGM) financiados por Monsanto.
Solidaridad internacional con lxs prisionerxs de la guerra de clase en Yogyakarta que están en proceso legal, después de ser arrestadxs mientras protestaban contra la sociedad monárquico-feudal y la construcción del mega proyecto del Aeropuerto Internacional de Nueva Yogyakarta (NYIA) que expulsó a lxs campesinxs de Kulonprogo .
Solidaridad con Cedar (Peter) Hopperton que había sido arrestado y procesado por daños a la propiedad que ocurrieron en Locke Street, Hamilton.
Solidaridad internacional con aproximadamente 200 presxs del J20 en los EE. UU. Que están amenazadxs con hasta 60 años de prisión después de protestar contra la asunción a la presidencia de Trump y la hegemonía del sistema económico-político capitalista.
La última, Solidaridad Internacional para todxs lxs Presxs Anarquistas de larga condena.
NUNCA LXS OLVIDAREMOS, Y NO ESTÁN SOLXS. SIEMPRE ESTAREMOS CON USTEDES EN CUALQUIER SITUACIÓN.
Cualquier fondo para lxs prisionerxs anarquistas en Yogyakarta será recibido con gratitud y se puede realizar a través de esta cuenta de PayPal: https://www.paypal.me/TobiVBonano
---
FUENTE: JUNE 11
TRADUCCIÓN: INSTINTO SALVAJE