From Treason in Faux Furs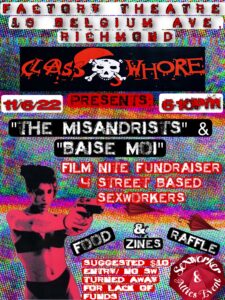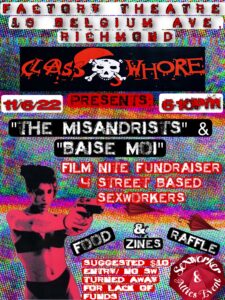 Food! Film! Zines! Political prisoner support info packs! Raffles! (Bring coin 🙂 )
Date:
11 June 2022
Venue:
The Factory
(19- 21 Belgium Avenue, North Richmond)
Time:
6pm – 10pm
Entry by donation:
suggested 10$ per/ person (no sex worker turned away for lack of funds)
A sex worker and friends/ ally event.
Children welcome- we will be providing a non-cinema space with kids activities.
Donations of internet accessible mobile phones/ pre-registered SIM cards/ winter clothes accepted.
The Misandrists
Directed by punk-homo legend, Bruce LaBruce, The Misandrists, focuses on a secret cell of radical feminist that are planning to liberate women, overthrow the patriarchy, and usher in a new female world order. The group is led by Big Mother, who operates a school for wayward girls in the countryside as a front for the underground cell, the Female Liberation Army.
When a member of the Female Liberation Army takes pity on an injured male leftist, she hides him in the basement – just one of many secrets that threatens the FLA's mission from within.
Baise Moi
Written and directed by French former sex worker Virginie Despentes, Baise Moi features IRL sex worker actresses and protagonists.
Banned by conservative so-called Australian censors in 2002, Baise Moi tells the story of two young women, marginalised by society, who undertake a road-trip to nowhere, engaging in gleeful sex and violence- transgressing social, gender, and class norms- robbing the upper-middle class and killing men- and shattering the complacency of polite cinema audiences.