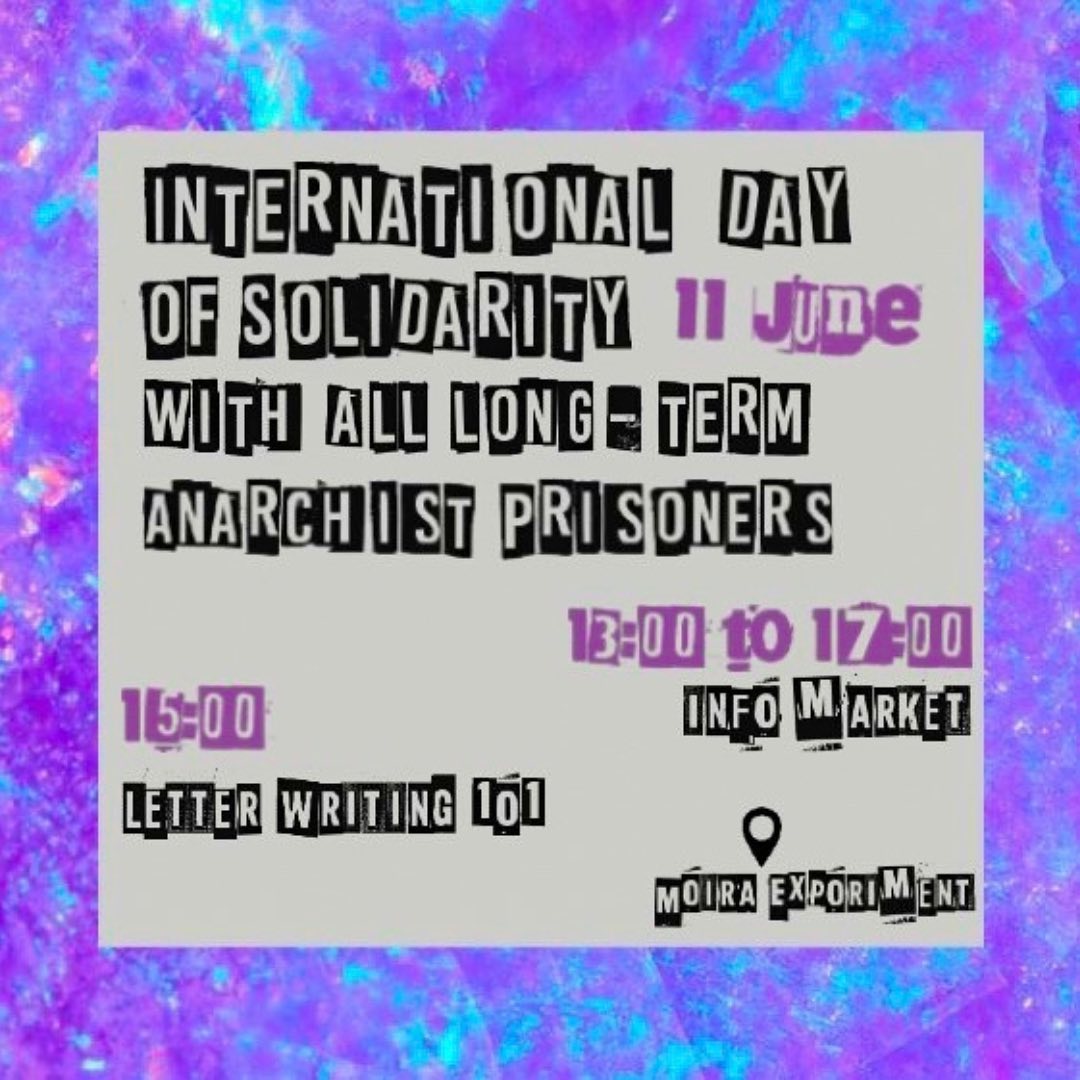 International Day of Solidarity with Marius Mason & All Long-term Anarchist Prisoners. Come learn more about long term prisoner support campaigns for trans, queer & femme anarchists. We'll have an infomart with resources about how to write & otherwise contribute to the support work for different comrades facing long sentences around the world, as well as zines of their personal writing, background info on their legal cases and more general information on state repression against anarchist groups & organizing. At 15:00 there will be a short introduction on how to start writing to incarcerated folks in different countries,
Access info:
Our events are oriented on FLINTA* folks
(Femme, Lesbian, Intersex, Non-binary, Trans, A-gender)
Our space in Moira Exporiment is unsafe for racists, sexists, homophobes and transphobes.
Moira is a cash-only paradise
From Utrecht Central Station it takes 15 minutes walk or 7 mins by bus to Janskerkhof, followed by 5 minutes walk. There is a "deur openen" button to open the main door and the space is through the red door at the right side after entering. The maximum height of the threshold of the door is around 10 cm. Currently we're collecting donations to buy a small ramp for wheelchair users to cross that threshold independently. There is one small gender-neutral bathroom in the space. The closest wheelchair accessible toilet is at the university on the Drift, a 5 minute roll from Moira. We welcome small children and babies, but we don't have a diaper changing space.
We kindly ask you to stay at home if you have any covid like symptoms. We have self-tests, masks, hand sanitizer, ear plugs, drinks and some snacks in the space.
The location is Moira Exporiment, Wolvenstraat 10, Utrecht